Gramercy: 750xp; Potions of Fire Resistance, 2 Black Vials of "Anti-Magic Smoke", Ledger, 4 bottles of fine wine (worth 50gp in an inn at Gate Pass; priceless in good company).
The Brotherhood of the Aquiline Heart hurried down the cobbled Elf Road, dodging bits of debris and the occasional cloud of smoke and cinder sparks. Flame licked at their cloaks and ash choked their nostrils, settling into every fold and crevice until all looked like gray ghosts hurrying home before dawn. The Elf Road wound itself through hill and gully, every rise wind whipped, every depressing a basin of smoke.
A loud squawking like a great ugly bird broke through the heavy hum of flame and a loud crack sounded above! A huge flaming branch landed at the feet of Hours who quickly knocked an arrow. A squawking bird came hurtling out of the smoke above, wide eyed with terror it landed amidst the party and jumped to its feet. It was a bird-man! Long beaked and raven feathered, this fellow wore a singed cloak of wool and a short blade scabbarded at his waist.
"Name thy self!" cried Driemz Darkblade "Or suffer the indignities of heaven's wrath!"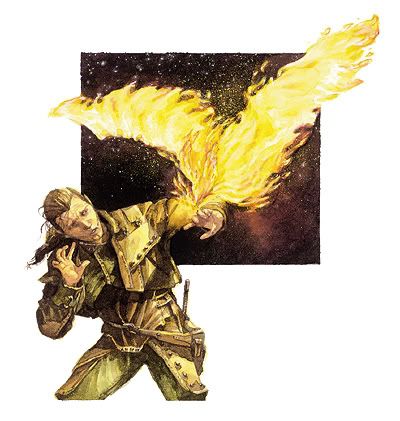 "Aawk!" said the bird man looking straight up. The clouds parted and two massive bats wreathed in flame hurtled downward! Each wing spanned nearly the height of a man! The Brotherhood hurled spell axe and arrow at these approaching monsters who twisted and turned and then came hurtling through their ranks, kicking up a cyclone of hot ash and searing all with their wings. The bird-man hustled through the group and ran a few steps down the road then broke off and dove into the burning underbrush.
"Wait!" shouted the dark elf. "Who are you? Where are you going? Stay and help us fight!"
"Can't stay! I'm on a schedule! Got to hurry! Sorry lads! I owe you one!" And the overgrown magpie disappeared into the smoke and flame.
It took mere furious moments of violence to put the fire bats down to earth. There they lay, still burning weakly with the fire that would not die. Geth bent down to rip open a belly in some vain search for gold and a blast of flame singed his beard. Then suddenly the bats revived, sprang up and leapt into the air! The brothers beat them down again, but this time one flew off into smoke, while the other flopped weakly, its head shorn off and tossed into the brush.
"Things do not die in this wood," said Ahleena of the Torrents. "Let us hurry on. We cannot have gotten far yet and it is past noon!"
---
Geth Corvine led the way, his every fiber tingling with danger. He knew he was being watched. He could feel their eyes upon him, never blinking, some laughing spirit watching his every move, shepherding him to his doom… He pulled up short at the edge of a chasm. To his right a cascade of water tumbled off cliffs into a sheer stone gorge that captured what must be the White River, no longer a headwaters, but still not in full flower. An old bridge, blackened and cracked by fire spanned the chasm in a delicate arch. Geth could see right away that this bridge was unlikely to be stable and he approached cautiously while his companions held back.
Indeed, the stones seemed weak in several places, and so Geth made to leap across to safer harbor and did so only to discover further decay, and to lean over the crumbled stone rail to see an old wagon wheel and cart dashed against the rocks below. Then he felt a stirring in the stone beneath his feet…
Bats! A horrid cloud of them, like a flurry of torches rising up on all sides, hungry for blood! This too was a delicate fight, swatting at the small creatures, and one large one, while trying not to fall through the holes in the bridge. Ahleena did fall, but survived with bruises.
Down in the gorge, the cleric examined the broken wagon and found the skeleton of a gnome or halfling lying in a pool of water. Nearby a broken chest held bottles of wine and Fire Retardent.
---
It was late afternoon when the party came upon a great fallen tree across the road where it pass between two hills. In the alcove revealed the displaced roots a small tunnel and cave were found. Swiftly, Geth, Hours and the gang crawled through to find a large cave, cool and damp, with a small pool fed by a spring. There were crude stick figure paintings on the wall depicting the exodus of a flock of birds from one tree, across mountains to another tree. There was also a sheaf of papers, remnants of an accountant's ledger, detailing goods received (weapons, arrows, seeds), and "Elven Gold".
A howl made all turn. Blackwolf stood at the entrance to the cave. He looked and saw a fearsome sight, a pack of flame shrouded wolves padded out of the smoke lead by one massive beast that seemed to consist more of flame than canine. The wolves howled and the fire beast dropped a large bone from its mouth which clattered on the cobbles. The wolves then sat on their haunches and stared at Blackwolf with great expectation.
The Indigo Kid pulled up short as he ducked under the fallen tree and saw Blackwolf kneeling before a pack of hell hounds, holding a large thigh bone. Was this some sort of barbarian ritual? Was Blackwolf a worshiper of Fenris the Wolf Who Ate the Moon? Were these hounds hungry? They certainly licked their lips enough. And their saliva was liquid fire. "Are you ok old stone man? What's that bone about?"
"It has writing on it," said the barbarian without turning.
"What does the writing say?"
"I don't know. I can't read."
The barbarian tossed the bone over his shoulder and the bard caught it. Be bone was inscribed as if by a burning nail, but they were common letters:
"Leave the case. Cooperate, and we might find an arrangement that spares your lives. Carry this with you if you wish to bargain."
"What?" said Geth when he heard this. "Not likely! The rags can't stop us now!"
The hounds of hell slunk back into the fiery forest, but Blackwolf could not shake the memory of staring into those molten eyes like through the Gates of Tartarus…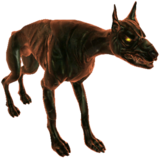 ---
After some discussion that spending a night in the cool cave of the bird merchants might be most restful, the heroes decided to press on, determined to make their way through the forest. An hour of travel passed, and though none could see, all knew there were eyes upon them. Soon they came to a clearing where a monument stood, a statue in the middle of a modest fountain surrounded by burning rosebushes. There was a flash and a devil appeared in a chrysanthemum of flowering flame, smoldering. This devil stood nine feet tall, red skinned, hairy, and broad bellied. A fearsome grin broke his twisted beard and he swung a massive glaive about his head. His voice was like the rumble dreams and darkness,
"Yes, yes, I see that you are brave, but smart negotiators always obey the letter of any contract. Unfortunately for you, I have already signed one. But I do appreciate your spirit."
"Who are you? Who sent you?"
"I am called Kazyk the Perfidious. I am here at the lordly behest of the bear-skulled ones, like your friend there," the devil pointed at Blackwolf and his battle trophy. "Just an old man who found my name in a library he shouldn't have been in. His soul will burn for this, but I can wait. Now, if you have a contract as well then we are at an impasse and the matter must be decided by the strength of each contract's agent. Precedence has no bearing. En guarde!"
With a crack and smoke, the devil disappeared and a smaller wretched looking thing appeared in his place. And Kazyk was suddenly amongst the them, striking Driemz with his serrated blade even as Geth ran to him and smote him with a mighty hammer. Wolves poured forth from all sides of the road and Blackwolf saw the Hellhound peaking around a tree. This would be a battle! Fire and explosions of ash! Axe, hammer, and arrow! star and spell! curse and prayer! Vicious, rending teeth!
And so it was, leaving the warriors panting and exhausted, cursing the name of Kazyk the Perfidious whose timely escape left only his laughter upon the wind. "This is not over mortals! For we have only begun our negotiation!"
The heroes hurried back to the cave and their spent a blessed few hours safe from heat and harm…